Each order of a radon test kit through April 30th will ship with a complimentary UGA Radon Program cloth mask cover.
Georgians may order a test kit online or through the mail ($15). Radon in air test kit order includes shipping, lab processing, and follow up service for testers with elevated results.
Non-Georgians, visit the EPA.
What is radon?
Radon occurs naturally when uranium breaks down to form radon. Uranium is often found in high concentrations in granite and rocky soils. Radon is released into the soil and can easily enter a home through the foundation and well water. It can build up to dangerous levels inside homes, schools, and other buildings. Radon is the second leading cause of lung cancer in the United States, after tobacco smoke. Radon kills nearly 21,000 people each year, more than 800 of them in Georgia. Smokers are at an even higher risk of radon-induced lung cancer than nonsmokers.
High radon levels by county
The map below indicates areas at risk for higher levels of radon. Click the map to see your county. Please note that this data is based on test results between January 1990 and December 2019. There were insufficient data to determine the radon levels for counties without color. This map only serves as an approximation of the likelihood that your home contains higher radon levels. Testing is the only way to know if you have dangerous levels of radon.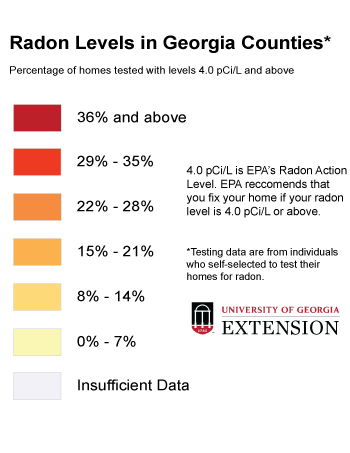 More Maps
Funding
The UGA Radon Education Program receives funding from the U.S. Environmental Protection Agency State Indoor Radon Grant Program.
Video: Radon Can Lead to Lung Cancer
FAQ
What's considered a high test result?

Above 4 picocuries per liter (pCi/L) is high. If your test result is over 4 pCI/L it is recommended that you test again with either a short-term (two to seven days) or long-term (three to12 months) device. If the second test result is over 4 pCi/L you should hire a professional to fix the problem.

What types of radon test kits are there?

Short term radon tests take two-90 days (depending on the test used) and are the best first step to take when testing your home for radon. They indicate the average level of radon in your home during the testing period.

Long-term radon tests are the most accurate, but take over 90 days to complete. Long-term tests are recommended as a follow-up when a short-term test kit indicates levels are close to or slightly above 4 pCi/L. Order a long term test kit from the National Radon Program.

How do I reduce the radon in my home?

If the radon level in your home is over 4 pCi/L, you should consider getting your home mitigated. Mitigation is the technique used to remove the radon in your home. You should you use a registered mitigator and obtain estimates from more than one professional. In the EPA Consumer Guide to Radon Reduction, on pages 4-6, there is a helpful checklist on how to select a radon mitigation professional. For more information on mitigation, read Radon Mitigation Dos & Don'ts.

There are no laws mandating a mitigator receive certifiecation in Georgia, however, many mitigators chose to get certified by one of two national programs. The program reccomends you use a certified mitigator. Click the links below to search for a mitigator in your area.

Find certified mitigators in your area

How do I test for radon during a real estate transaction?

The UGA Radon Program recommends hiring a certified radon tester to perform a test during a real estate transaction. These testers are trained to use equipment that is tamper-proof and can provide a radon result quickly within the due dilligence period. There are currently no laws mandating radon testing or certification for real estate transactions in Georgia.

Find certified testers in your area

What about radon in well water?

If your drinking water comes from a well or other underground source, then it could contain radon. If you have a private well, we recommend testing your air first and if that result is high, then test your drinking water. For more information on radon in water, visit the EPA website. Click here for a map of radon in water test results in Georgia.

UGA offers testing for radon in water through the UGA Agricultural & Environmental Services Laboratories. Click here for the radon in water sampling instructions and submission form.

How do I conduct the test?

Once you get your test kit, follow the directions included in it. You may also view our Radon Test Kit Instruction video.
News